No Frames Version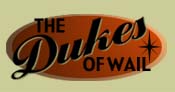 The Dukes of Wail - Premier Cleveland Swing Band
The Dukes of Wail (the band formerly known as Jump, Jive, and Wail) is one of the premier jump blues / swing bands in Cleveland, Ohio, going beyond the "swing fad" to deliver authentic jump blues, danceable swing, and standards. The perfect wedding band and party band. Featuring jump blues, swing music and big band classics perfect for swing dancing, as well as originals from our new CD Release, "No Turning Back" distributed by Cleveland-based Catch This Records, Ltd. The band performs at nightclubs, dance halls, corporate parties, private engagements and weddings throughout the Great Lakes region, northeast Ohio, the Midwest, and Cleveland. Our music appeals to a wide audience including blues fans, swing dancers and those who remember Louis Prima and Louis Jordan.
Contact us if you would like to hire the premier Cleveland swing band, The Dukes of Wail! Contact for information:
Dick Ingersoll
2062 West Blvd.
Cleveland, OH 44102-3641
(216) 469-0994
dick@dukesofwail.com
Ask about our online promo kit!